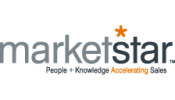 MarketStar currently has an opportunity available for an Account Manager to join us in our Ogden, UT location representing Pinterest. Positions are currently work-from-home, with an anticipated partial return to office in Oct 2021. This team supports small and medium businesses that are advertising on the Pinterest platform. Account Managers are responsible for working with existing advertisers and ensuring the success of those ad campaigns. They draw daily on both their skills in managing client relationships and utilizing the data provided to make strategic and thoughtful decisions. The right candidate will be instrumental in providing value to Pinterest and to the advertisers they support.
Rated as one of the Salt Lake Tribune's Top Workplaces in 2019, 2020, and 2021, MarketStar is one of Northern Utah's largest private employers and has offices in Ogden, Salt Lake City, and Dublin, Ireland. Our employees have helped launch, sell, and support thousands of products and services on behalf of the biggest and brightest companies in the world!

We are excited to have you apply to work with us! "You Belong" is one of the MarketStar values and we look forward to you finding belonging and purpose here with us. Another MarketStar value is "We Care" which means that we care about you, your career and your family. We look forward to the possibility of having you on our team!