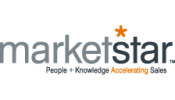 MarketStar currently has a position available in Ogden, UT for a Director of Sales. As a Director, you will use your strategic sales and client relations expertise, marketing knowledge and technical aptitude to lead large sales teams to success and develop strategies to meet your client's sales objectives. The Sales Director is responsible for ensuring SLA agreements and/or sales quotas are met/exceeded for all assigned team engagements while providing direction and recommendations, planning, development, and implementation of appropriate marketing and sales operations for multiple sales teams who represent well known SaaS and social media (ad sales) clients.
Rated as one of the Salt Lake Tribune's Top Workplaces in 2019, 2020, and 2021, MarketStar is one of Northern Utah's largest private employers and has offices in Ogden, Salt Lake City, and Dublin, Ireland. Our employees have helped launch, sell, and support thousands of products and services on behalf of the biggest and brightest companies in the world!

We are excited to have you apply to work with us! "You Belong" is one of the MarketStar values and we look forward to you finding belonging and purpose here with us. Another MarketStar value is "We Care" which means that we care about you, your career and your family. We look forward to the possibility of having you on our team!