Junior Business Development Manager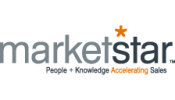 MarketStar currently has an opportunity for you as a Junior Business Development Manager representing a leader in the technology industry.
As a Junior Business Development Manager, you will assess and recommend new up-and-coming accounts for coverage to our inside sales team. In addition, you will be responsible for identifying and working with Channel Partners that have great potential to grow sales for NETGEAR product. You will also be responsible for helping potential Channel Partners navigate through the on-boarding process
Rated as one of the Salt Lake Tribune's Top Workplaces in 2019, 2020, and 2021, MarketStar is one of Northern Utah's largest private employers and has offices in Ogden, Salt Lake City, and Dublin, Ireland. Our employees have helped launch, sell, and support thousands of products and services on behalf of the biggest and brightest companies in the world!

We are excited to have you apply to work with us! "You Belong" is one of the MarketStar values and we look forward to you finding belonging and purpose here with us. Another MarketStar value is "We Care" which means that we care about you, your career and your family. We look forward to the possibility of having you on our team!